ATPIO President's 2018 Annual Report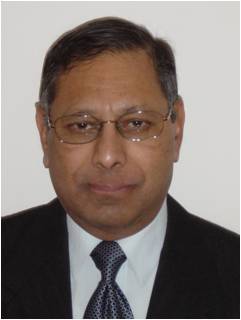 Since ATPIO was formed in 2004, it has maintained focus on its strategic objective to facilitate bilateral collaborative activities and partnerships that include research, as well as knowledge and technology transfer between diverse groups of transportation professionals in US and India. I am pleased to report that in 2018 ATPIO members, distinguished academics, as well as highly respected transportation professionals from public and private sectors, continued their collaborative efforts with their counterparts in India.
2018 ATPIO Annual Meeting
Consistent with its decade-long tradition, ATPIO held its 2018 Annual Meeting in conjunction with the TRB Annual Meeting. Logistically this works out well since many transportation professionals of Indian origin gather at this meeting. Our ATPIO Annual Meeting was well attended and provided a good networking opportunity for academics, professional practitioners and students. Especially well-received were presentations on WCTR-2019, COMSNETS2018 and Workshop on ITS, as well as 2017 TRG activities by Professors K V Krishna Rao, Gitakrishnan Ramadurai and Manoranjan Parida of IITs Mumbai, Chennai and Roorkee, respectively. Attending students found reception that followed as a good venue to meet one-on-one with experienced transportation professionals of Indian origin.
New Look of ATPIO Website
During this year, thanks to Professor Mohan Venigalla and graduate students from IA State, UC Irvine and GMU, ATPIO website became vary vibrant. Behind what you see, the website is secure and backed a secure email server as well. The improvements to the site and the email server give us the ability to securely communicate with members and friends as well as automatically track memberships. Having put so much effort into all this, we hope it will help us gain greater momentum for our 2019 activities.
Collaborative Activities
ATPIO continued to actively facilitate collaboration between academia in US and India. ATPIO members participated in organizing conferences held in India. ATPIO is assisting IIT-Mumbai host the 2019 World Conference on Transport Research (WCTR). As in the past, we are co-sponsoring 2019 Conference of Transportation Research Group (TRG) in India. In 2018 ATPIO and TRG continued organizing joint webinars to facilitate more bi-lateral collaboration between transportation professionals in US and India. We intend to arrange two webinars per year on topics of mutual interest, presenters alternating between ATPIO and TRG. ATPIO members have been actively providing assistance to India's Smart Cities initiative as well. We are working with George Mason University (GMU) to sponsor an open access journal in transportation to be launched by GMU.
ATPIO Webinars
During 2018 ATPIO organized the following two successful webinars:
"Roundabout Design: Workflow, Limitations, and Solutions",  by Hannah Koshraviof Transsoft Solutions, Canada
"Application of big data analytics in transportation operations",  by Professor Anuj Sharma
ATPIO Student Scholarship 
Thanks to Professor Jayakrishnan, ATPIO received a generous donation of $1,000.00 from our Gold Sponsor Mr. Venu Sarakki of Sarakki Associates. Previously Professor Shashi Nambisan, former ATPIO President, had donated $200.00 toward student scholarship program. ATPIO greatly appreciates these donations. As a result, ATPIO has awarded a $250.00 travel scholarship to Akhilesh Chepuri of Surat, India, who will present a paper at the 2019 TRB Annual Meeting. Also, ATPIO expects to award five- $100.00 scholarships at the Annual Meeting.
Best wishes,
Arun M. Shirole', PE, FIE ATPIO President