Member Profile: Anuj Sharma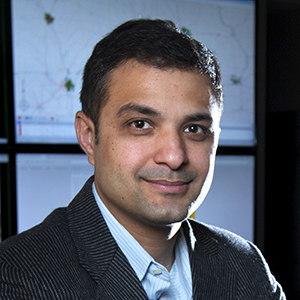 Dr. Anuj Sharma is an associate professor in the Civil Construction and Environmental Engineering Department at Iowa State University. He is the co-director of REACTOR (Realtime Analytics of Transportation Data) lab.  In these positions, he teaches transportation engineering courses to undergraduate and graduate civil engineering students, conducts research in the transportation operations area, and participates in numerous professional organizations.  He is also Editor in chief of Springer-Nature's Journal of Big Data Analytics in Transportation.
His research uses big data-driven discoveries to help make better short term (usually automated control) and long term (policy) decisions. The High-Performance Cluster (HPC) assembled for the REACTOR lab is able to ingest multiple streams of real-time data from multiple sources. REACTOR-HPC and a memorandum of understanding with Iowa DOT, has placed Iowa State University among one of the very few facilities in the US transportation arena using big data analytics in the field of transportation.