ATPIO and TRG Webinar: The Kumbh Mela Experiment
ATPIO and TRG jointly hosted a webinar on "The Kumbh Mela Experiment (KME): Measuring and Understanding the dynamics of mankind's largest crowd – Experiences from Kumbh Mela 2016 in Ujjain" on 22nd August, 2017;  9:00 AM IST (11:30 PM ET 21st Aug).
Recorded Webinar Link: https://connect.extension.iastate.edu/p2mbuts3towf/
Abstract:
The Kumbh Mela Experiment (http://www.the-kumbh-mela-experiment.com/) is an ongoing Indo-Dutch collaborative research project funded jointly by Department of Electronics and Information Technology (DeitY), Govt. of India and Netherlands Organization for Scientific Research (NWO), Netherlands. The aim of the project is to use big data and Internet of Things (IOT) for understanding crowd dynamics in mass gatherings and develop crowd management solution particularly focusing on crowd risk. The project aims to deliver the core components of an entire crowd management solution, all the way from designing and building personnel devices for tracking movement (or more precisely human-to-human interaction) to developing advanced computational models to help predict how the crowd may evolve.
As name clearly suggests, the data collection was done during the recently held Kumbh Mela (Simhasth-2016) in Ujjain, M.P., India during 22nd April to 21st May 2016. This presentation on KME will explain the scientific aspects of the project and initial results of various experiments done/ongoing under the project.
About the Speaker, Dr. Ashish Verma: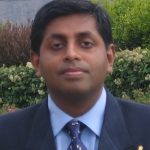 Dr. Ashish Verma is a Ph.D. from IIT Bombay and currently serving as Associate Professor of Transportation Engg. at Dept. of Civil Engg., Centre for infrastructure, Sustainable Transportation, and Urban Planning (CiSTUP), and Robert Bosch Centre for Cyber Physical Systems (RBCCPS) at Indian Institute of Science (IISc), Bangalore, India. Further, he was a Visiting Professor at ITMO University, Saint Petersberg, Russia during 2016. He has authored more than 100 research publications in the area of sustainable transportation and road safety.
He is the Founding and Current President of Transportation Research Group of India (TRG). He is presently serving as Country Representative from India, Vice Chair (Conference) of Scientific Committee, and Steering Committee Member of World Conference on Transport Research Society (WCTRS) based in University of Leeds, UK.