USTDA Wins India Smart Grid Forum's President Award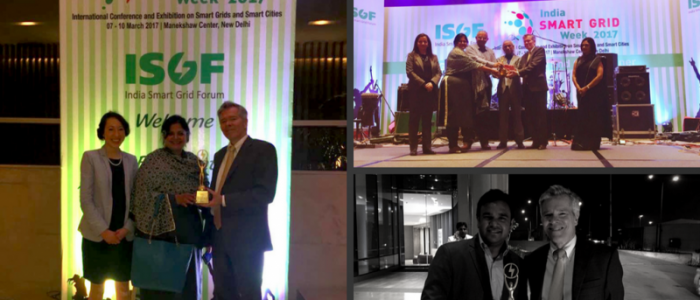 The U.S. Trade and Development Agency was awarded the India Smart Grid Forum's President Award for Promotion of Smart Grids in India, in recognition of work to advance India's grid modernization efforts.
The President Award is presented to an India Smart Grid Forum (ISGF) member that has made the best contribution towards the growth of smart grids in India.  Since 2004, USTDA has sponsored ten smart grid activities addressing topics such as distributed energy resources (DER), the viability of solar powered microgrids for two rural villages, and utilizing automated demand side management solutions to manage peak demand.  On these activities, USTDA partnered with both public and private sector utilities, as well as U.S. companies, to pilot innovative solutions tailored to India's unique electricity needs.
The award was presented during India Smart Grid Week in New Delhi. At the inaugural session, USTDA's Regional Director, Henry Steingass, spoke on the importance of involving the regulator in smart grid development. Mr. Steingass noted, "What is needed is a greater philosophy on how regulatory decisions can be made, taking into account benefits that customers may see in terms of more reliable power and the electric services, what they are able to bring."
ISGF, which bestowed the award and organized India Smart Grid Week, is a public-private partnership initiative under India's Ministry of Power.  (Visit USTDA for more)